PROJECT OVERVIEW
Cole Hardware is a well-loved local hardware store chain in San Francisco since 1959. Known for their motto: "There are no strangers here, just friends we haven't met!" Once you walk into any Cole Hardware stores, you sense a welcoming, fun, eccentric and friendly employees whose number one priority is ensuring customers get the best experience.
The Cole Hardware stores are eccentric, welcoming, and fun and around each corner you will find a friendly, knowledgeable employee whose number one priority is ensuring the best possible customer experience.
This was an individual project as part of the General Assembly UX Design Immersive program to focus on branding, research, usability testing, wireframing, and information architecture.
Alongside other students, we extended this student project into a client-facing opportunity and arranged an in-person meeting to provide the President of Cole Hardware, Rick Karp, and his executive team pro bono UX design consultation and strategy.
Client: Cole Hardware
Duration: 2 Weeks
Tools: Pencil, paper, Sketch 3, Invision
Deliverables: Research insights, personas, wireframes, prototypes; presentation to client
My Role: UX | UI Designer; sketches, wireframes, visual design, prototyping
SOLUTION
Apply principles of UX design to enhance product findability and architect a streamlined checkout flow to improve the user experience on the Cole Hardware website.
KEY FEATURES
Incorporate a better visual hierarchy: This is created with a simplified home page that allows users to navigate through the website easier
Transfer the delightful in-store experience onto their website: Adding a fun and friendly experience to the website builds trusts in customers
Easily search for items and find products customers need: This creates opportunities for all types of customers to get the items they need
Simple and quick checkout flow: By including a progress bar, customers don't feel lost and can focus on purchasing their product without any distractions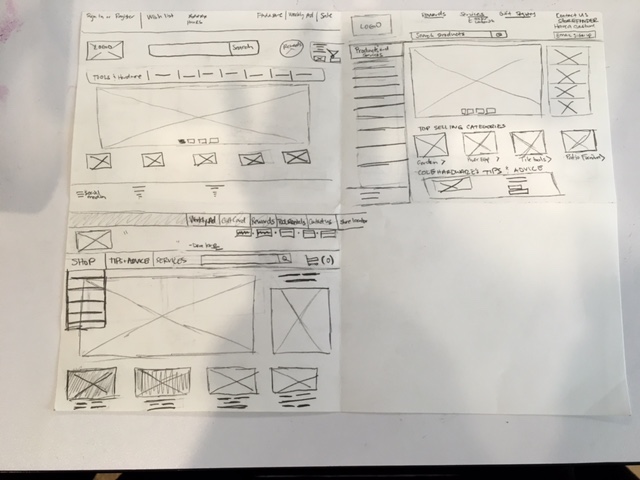 Check out flow from top left to right.
MORE CASE STUDY COMING SOON!